Firearm Restoration - Part 2
In part one of the firearm restoration I talked about why someone might want to get a gun restored or do a restoration on it. In part two I am going to talk about the different levels of restoration
Levels of Restoration
I. Cleaning Restoration – where you might go in clean the gun and every part and every spring in the gun, oil it so that the gun will not deteriorate any further. You might do this to a gun that has a lot of meaning but you do not want to spend much money on the restoration. The firearm is very valuable and doing anything to could bring the value down
II. Light Restoration – Here we would go in and leave everything and take the surface rust or crud off and do a deep clean on the gun. We take every spring and screw off inspect and clean, oil and put the gun back together. We are able to do this with some guns that have light fire damage or flood damage. You will still be able to see some of the damage but it will be cleaned up. In a light restoration we will not take off the orginal finish.
III. Store Room Restoration. The most commonly requested restoration. These guns could have had fire damage, flood damage, moisture, and or general ware. For this type of restoration we will take off all the finish on the firearm metal and wood. We will reblue and refinish the gun back to as close to the condition it was when it was in the store.
IV. Show room Restoration. In this we will do extra stock and metal work and put a better finish on the firearm that what was on it when it was in the store. We will upgrade curtain parts if the client wants
V. Cerakote Restoration. Here we will put a different finish on the firearm than it came from the factory. People that want to do this will want to hang it on the wall or use it in the field. This is a very strong finish and will not wear very easy. You can do over 100 colors including midnight blue that is close to the same color as actual bluing. If we do this you will lose most if not all of the value of the gun.
Here is a before and after picture of a 1911 metal restoration we finished recently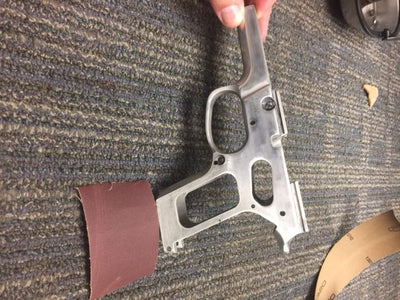 Metal restoration project – Before work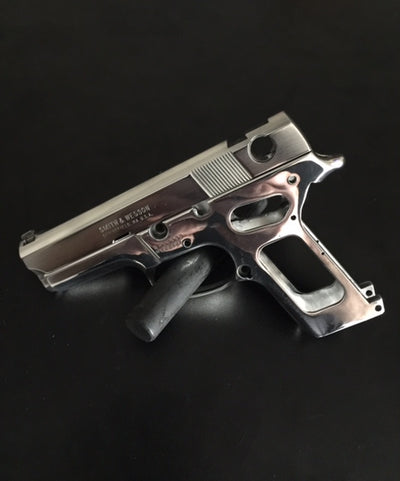 What ever level of restoration you want on your gun Lohman Gunsmith is your go to gun restoration experts. Here is a link to our restoration page https://lohmangunsmith.com/restoration/
If you are looking for the best gunsmith in Houston give us a call or send us a email
Check out our web site on repairs https://lohmangunsmith.com/repairs/ or check out our home page at: https://lohmangunsmith.com/
Send us a email at gunsmith@lohmangunsmith.com
Call us at (832) 849 – 0009
We are open:
Monday – Friday 8:00 a.m. – 5:00 p.m
Saturday 9:00 – Noon