Brian Lohman MFG
Brian Lohman MFG is a manufacturing division. Over the next several months we will start manufacturing many different items. Check back to see what we are doing. 
BRIAN LOHMAN MFG CUSTOM 1911 PISTOL
We are manufacturing some of the finest 1911's in the world.
Every component hand fit from frame to sights to bring together a match grade combat ready pistol.
Model: YMIR - Commander 1911 in .45 ACP caliber
Barrel: Nowlin 416R stainless match grade 4.25"
Finish: Color case frame, two –tone high polished bluing finish on slide, and hardware
Stocks: Lace & Burled Red Wood
Sights: Novak VU notch rear sight, Novak 14 kt gold front sight
There are 18 parts with matching last 3 digits of pistols serial number with a proof mark of an American Seal Eagle holding arrows and olive branch.
Slide
Grip safety
Extractor
Trigger
Slide lock
Thumb Safety
Hammer
Firing pin stop
Magazine release
Guide rod
Bushing
Plug
Main spring
Left grip
Right grip
Barrel
Mec-Gar7 round magazine
Mec-Gar 8 round magazine
YMIR features: Caspian, Nowlin, Wilson Combat, Novak, Harrison Design, and Ed Brown's highest quality parts available. The use of these parts as its building foundation are a key factor to what gives YMIR strength, and durability.
YMIR's Build: Over 10hrs of precision machine and hand fitment by our gunsmiths has gone into YMIR. From the fitment of the sights to the expert fitment of the frame/slide/barrel, and everything in between, zero inaccuracies were allowed. Holding ourselves to these high standards gives YMIR exceptional reliability, and on target accuracy.
YMIR's Finish: Over 12hrs of hand sculpting and polishing of parts by our gunsmiths has gone into YMIR. All external parts have been substantially modified to make YMIR one of a kind. Our bluing, color casing, and custom grips truly bring this firearm together. To a level, we believe, not reached before.
YMIR's Details: Inside, where no one may ever venture to look, you'll find several parts have been engraved. 18 parts in total including the slide, barrel, grips, and magazines. All 18 parts feature the American Seal (Eagle), and the corresponding last 3 digits in YMIR's serial number. Making this an all matching parts firearm, increasing YMIR's value now, and into the future. YMIR's grips are the accumulation of searching through thousands of feet of wood to find a 2ft section of unique lace and burled Red Wood. Hand fit to each frame giving the perfect deep red/brown contrast to the bluing and color casing. To top off YMIR, there sits a low profile VU notched rear sight. At the other end sits a 14kt Gold front sight, truly the tip of the iceberg to a culmination of excellence underneath.
MSRP $8500.00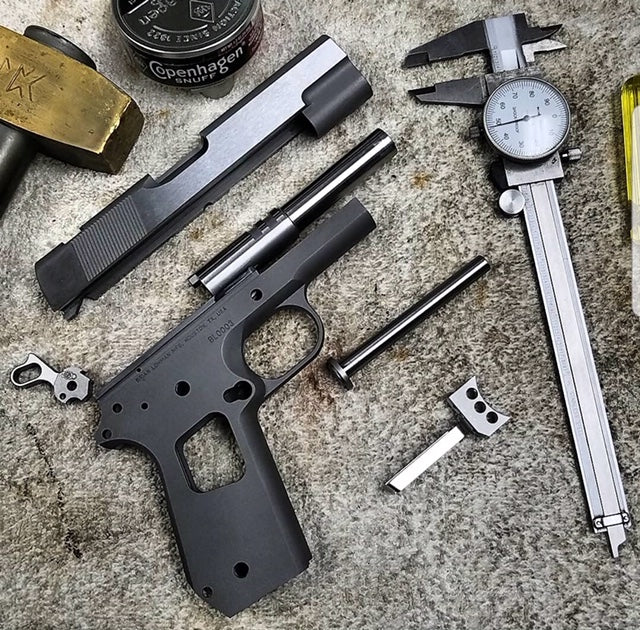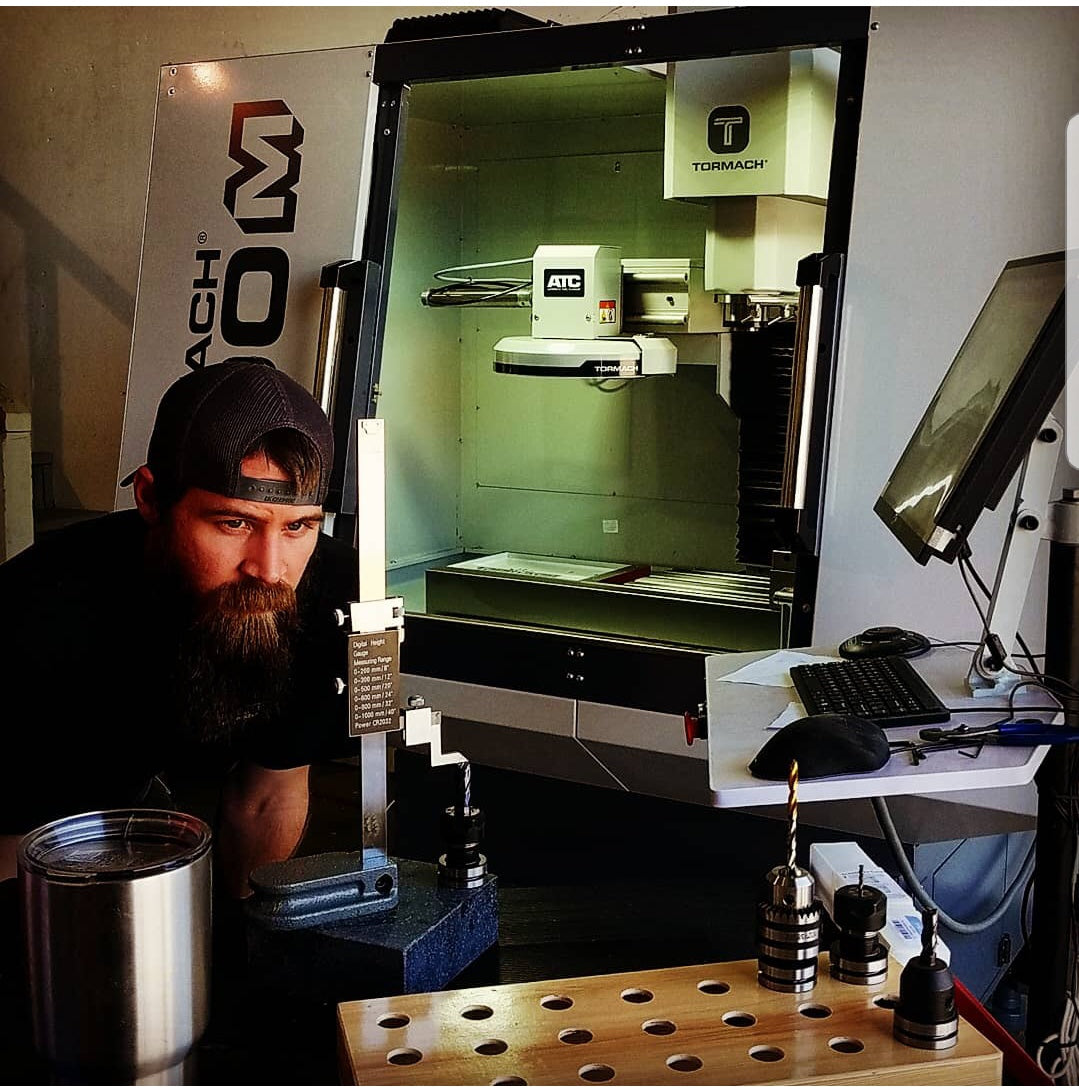 LEVI AND OUR TORMACH 1100M CNC
Brian Lohman MFG is starting to make suppressors. Below is our first suppressor model: Vidar We will be manufacturing them in several calibers. We will be  making suppressors from .17 cal - .458 cal. and also caliber specific ones like .25 cal, 277 cal, and .284 cal to maximize effectiveness. We will also be doing special order suppressors. Our base color will be black but we will be able to do any color or design for special orders.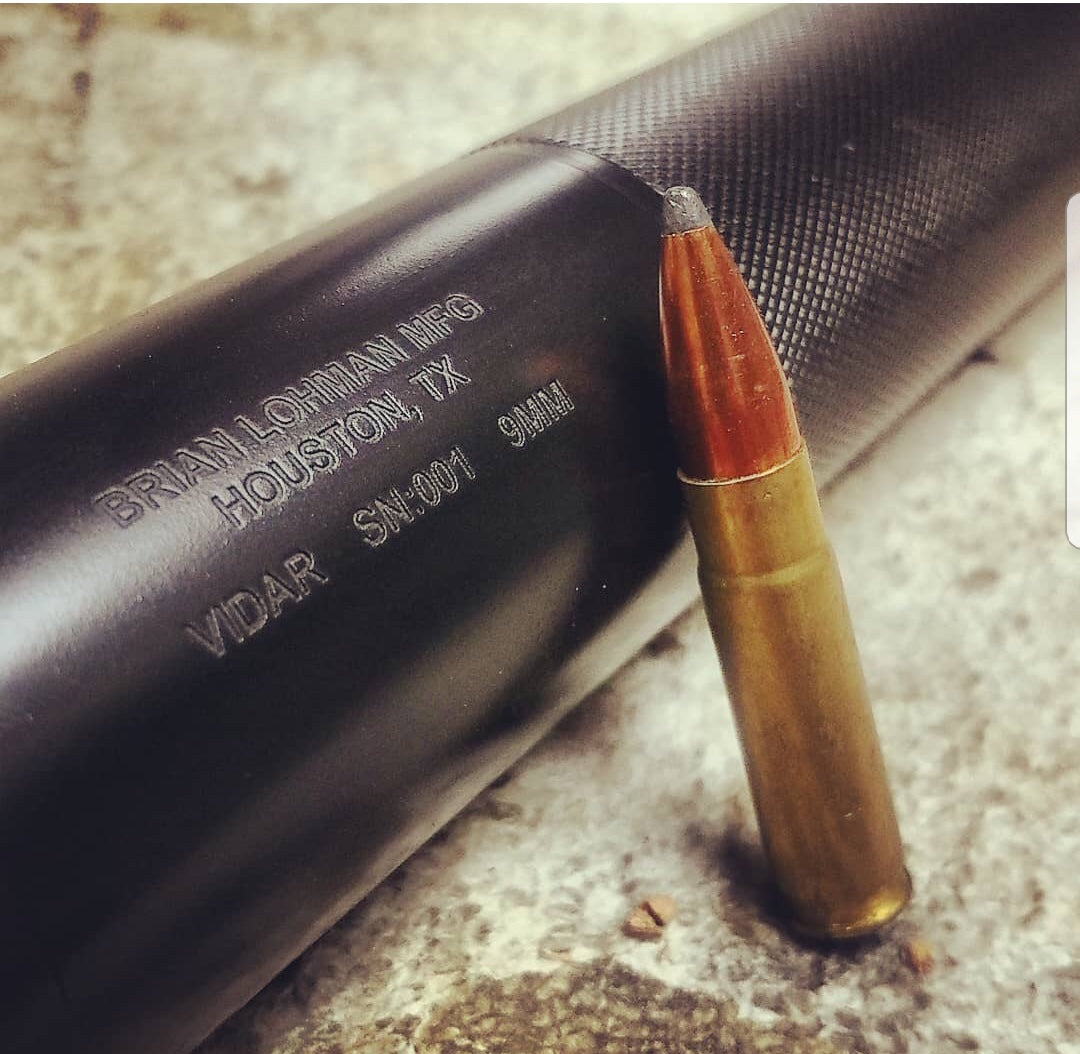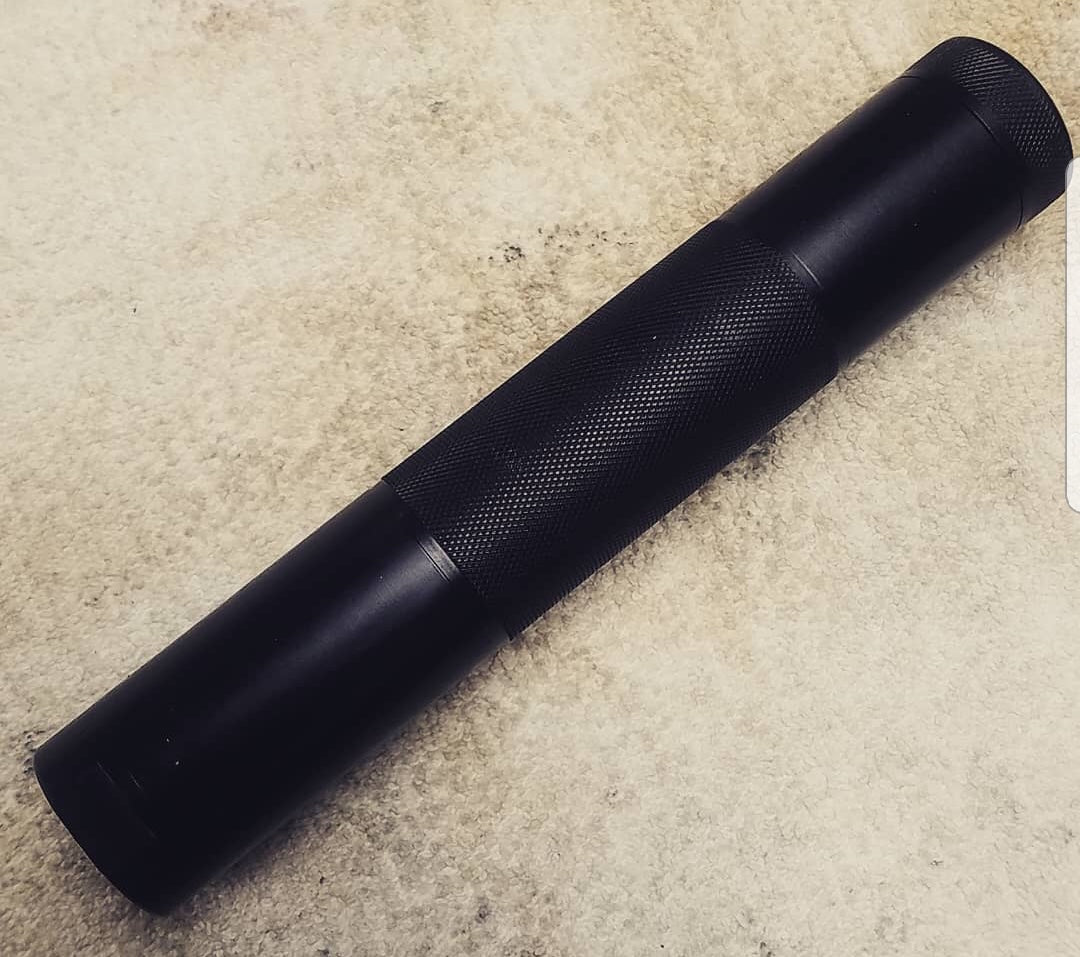 VIDAR SUPPRESSOR BY BRIAN LOHMAN MFG
Brian Lohman MFG will be making some of the finest 1911 grips. We will be making them out of the finest and most exotic woods in the world.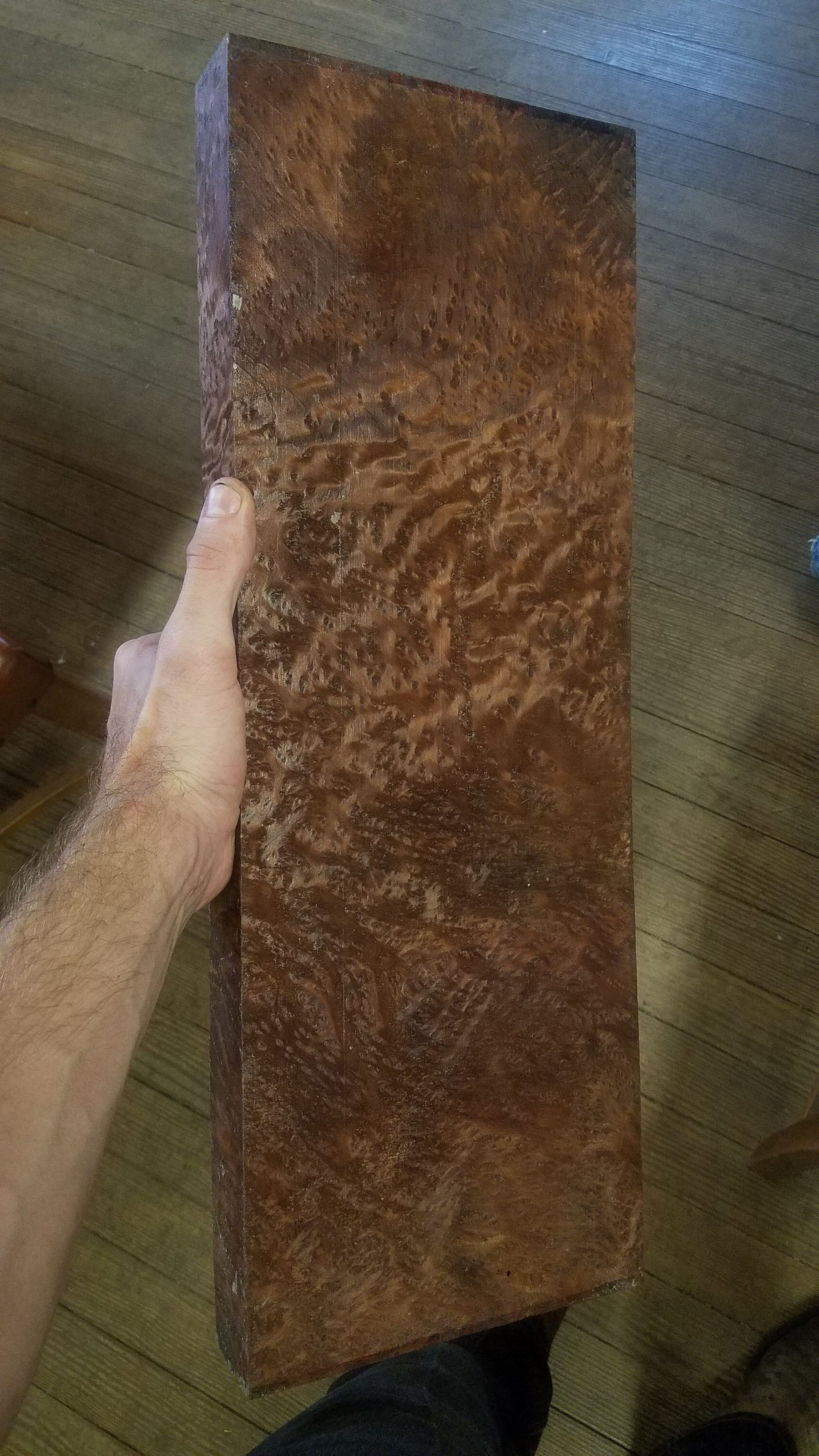 RED WOOD LACE BURL FOR OUR CUSTOM 1911 GRIPS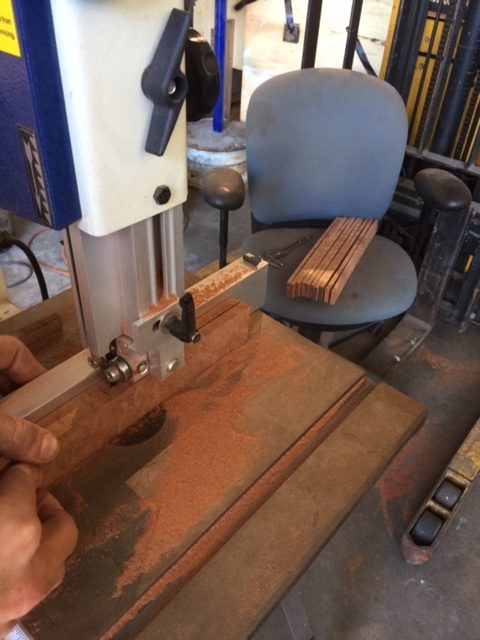 CUTTING OUR RED WOOD LACE BURL INTO GRIPS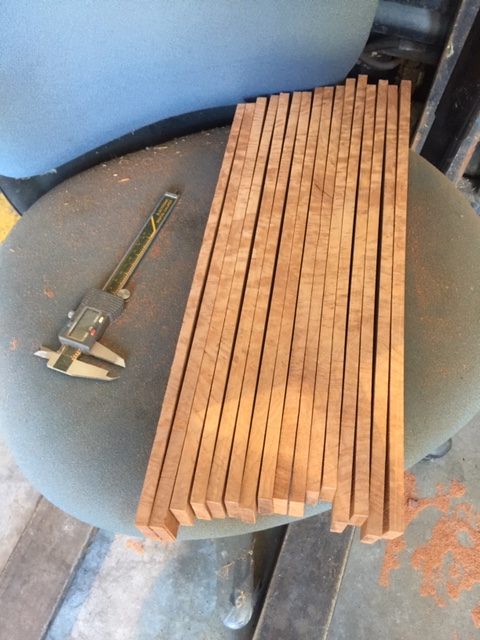 SECTIONS CUT FOR OUR GRIPS